Is the Land Rover Discovery a capable trans-continental overland vehicle?
Land Rover Series and Defender
have been successfully crossing continents. In this post, I provide examples of the
Land Rover Discovery
and its role in Trans-Africa overland trips. I focused specifically on independent overland websites which opted to use a Land Rover Discovery as the preferred vehicle.
Wikipedia
describes the vehicle as:
The Land Rover Discovery is a mid-size SUV, with off-road capabilities, from the British car maker Land Rover; a subsidiary of Tata Motors. There have been three generations of the vehicle, which was first introduced in 1989.
Key Points
In my opinion, gone are the days where the dominant 4x4 vehicle was the Land Rover Series or Defender model, as a result there are a number of key points on why the Discovery is becoming more popular with the independent overlander. The Discovery offers the following:
Superior comfort compared to the Land Rover Defender. Majority of Discovery's include sunroofs and air conditioning.

Similar size to the Defender (physically less rear load space but extra width is beneficial)

A raft of overland equipment - roofracks, fuel tanks, bullbars and every other possible modification available

In the UK, the Discovery is very affordable compared to the Defender.
The additional benefit over the LR Defender was the wide rear door which enabled easy access to rear of the vehicle as seen in this photo.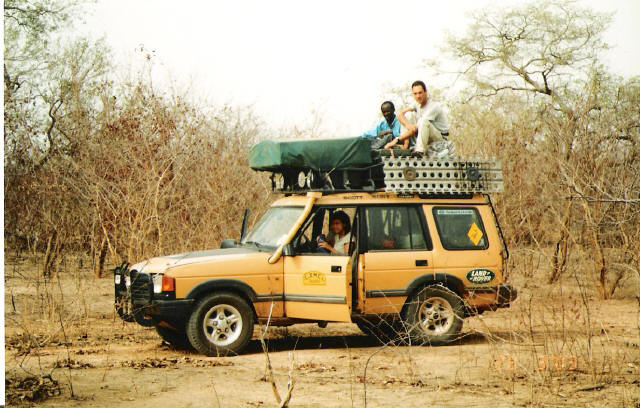 Colin and team headed South from the UK in a Discovery.
Wayne and Tracy write the following about their Discovery 300tdi:
We decided on a Land Rover for our trip and bought a 1998 Land Rover Discovery 300TDi in early 2008. The Landy was partly modified from a previous trip but we felt that it was not adequately prepared for our needs and still needed a lot of work and TLC to get it ready for our trip.
The most important accessory in my opinion for a diesel 4wd is a snorkel. Get water in a diesel and given the high compression ratio you can say goodbye to your engine. Apart from keeping water out they do a reasonable job of keeping the dust out and suck cooler air to boot. Combined with a K&N air filter, Truckasaurus breathes at its best.
Moving to the TD5 version introduces the electronics - however, with the right computer, diagnostics will be a breeze. Additional spares will also need to be carried in advance of any breakdowns as remote areas will probably not have the latest diagnostic equipment.
As time moves on and we look back in ten years, I expect to see more electronics in vehicles and easier diagnostics which should make the newer Disco 3 & 4 available as an overlander.
Additional Reading:
10 Reasons why the Discovery makes a good overlander