I thought it would be a good idea to see where past overlanders had been today in history:
2001
Cyber Diary
- (Agadir, Morocco)
the ride back south on an already known road is about as boring as todays entry into this diary...
2002 -
Can't find today listed on any website.
2003
Jepps Overland
- (Egypt)
All up and ready by 5.30am (this is a very rare occasion) and we went and joined the rest of the convoy. The convoy set off at 7am with a police van leading the way followed by all the small minibuses, then the landrovers and then the very big coaches.
2004
AfricanSnail
-
As the mid-day heat became too intense we retreated to a terrace cafe for lunch. Tried a cous-cous dish and a veggie tajine (stew cooked in a traditional earthenware dish). Then we sat and sweated for a while!
2005
BigSky Adventures
-
On the road to Murchison Falls, Uganda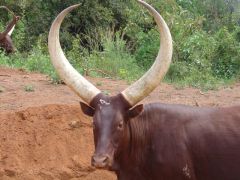 DuKs Journey
-
At 15:11 on 23rd September 2005, after 72,900km and over 20 months on the road, the DuK, Kat and I journeyed into the Suez tunnel pasing under the Suez cannal and in so doing left the continent of Africa.
2006
Border-Crossings
- The last 70kms out of Mali to Burkina were a rocky one, but the border-crossing was a breeze. We interrupted lunch for the officials, but they didn't seem to be too bothered by it, gave us our stamps, a wave and sent us on our way.
2007 & 2008
- proved to be difficult to find!
2009 -
Today
Listen to Africa
-
About to get back on the bikes after a month off in senegal. It's a bit like starting the trip again. But with a suntan. And less money.
Tiffany's Travels
-
I spotted a lone hordeman herding his cows and asked him about petrol (benzine) - but despite smiling nicely the answer was ugui (no in Mongolian), 500 metres further on and I completely ran out of fuel. Evening was fast approaching so I put up my tent and waited for someone to pass- nothing came. I wasn't too worried as I always carry a few days food and water with me and also the horseman's ger wasn't too far away if I did need something (as long as it wasn't petrol).

In the end it was 18 hours until a vehicle appeared - a slow, lumbering b