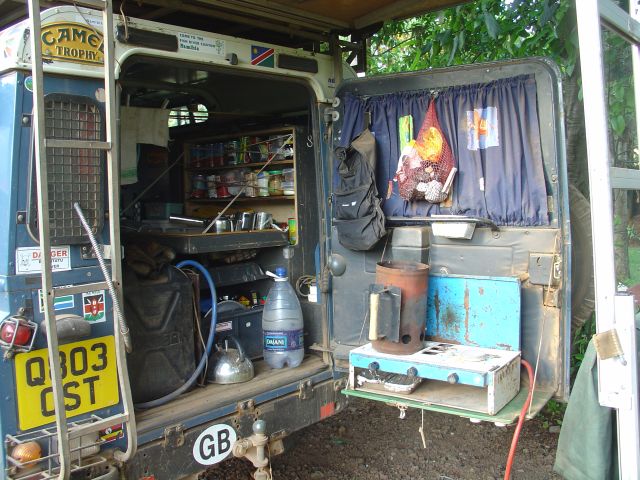 BigSky Adventures Cooking setup
The cooking setup of overland vehicles vary considerably. Some vehicles have fantastic looking expedition kitchen units integrated into the vehicle - others have rusty old gas cookers or charcoal burners. All do the job - some are just more efficient than others.
In my search for the optimum cooking setup, I stumbled across the
Stimson Explorer kit
. In summary this is a field kitchen build into a neat storage unit and would make the ideal expedition field kitchen for an vehicle based journey.
Unit Overview:
The unit comprises of a sturdy box with a lid that opens and is supported with an extending leg. The sides have supporting handles which are clipped in place during transit.
The interior comprises of the following equipment:
Gas cooker & cartridges
Cooler Box
Cutlery & cutting board
Wash basin
Stimson Explorer Kit - field kitchen in a box
Water Bottle & Pump
Ease of Setup:
The benefit of this unit is the ability to open the lid and get cooking quickly or remove the unit from the vehicle and setup in a convenient location.
The lid is held on via two elastic bands whilst the water pump is hinged to a holder on the left.
The water tank is independent which means that you can use any water source rather than carrying an integrated water tank around with you.
Vehicle integration:
The unit is standalone so could be mounted on sliding rails or secured to the floor using straps.
Slight Improvements:
The unit, in my opinion, ticks many boxes for an overland trip - easy of use, integration into vehicle, best use of storage space.
However, there is one improvement that is needed. The gas cooker is stored under the water basin which means that that after use, you will need to allow the unit to cool before packing away. A neater system would be small drawer system so that the gas cooker can be packed away hot.
Summary:
If you are planning your overland trip and are undecided on the cooking arrangements, I would recommend looking at this unit. It can integrate neatly into your vehicle and offers the benefit of a compact design which includes majority of your cooking equipment.
Additional photos: